Connection in a distributed world
With connection more important than ever, explore how your organization can benefit by doing more to bring people together and strengthen relationships.
Reading time: About 4 minutes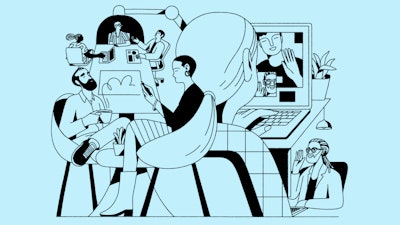 Connection is a basic human need. People crave a sense of security and belonging—especially at work. But connection is also complex. Maintaining a healthy, well-connected culture within an organization requires constant evaluation, care, and adaptation.
How connection has changed
We've learned over recent years that a distributed workforce—even one that's primarily remote—can remain productive. While employees enjoyed the benefits afforded them by the rise of flexible work models, connection has suffered.

At the organizational level, weakened connectivity dilutes culture, hampers innovation, and complicates implementation of new ideas.

Individuals struggle with this growing disconnection as well.* As social isolation rises, so does burnout.** The fallout also affects a shared sense of purpose and employee engagement, which correlates to business outcomes.***
Why it's complicated
When we talk about connection, we're not talking about one thing.

We connect with one another, but today we can do so in-person or virtually. We connect with other people, but we also form connections with places, ideas, and things. And all these connections form across a range of levels, from individual to team to community.

To simplify, we examine connection through three categories:

In-person connections
Our relationships with other people or things that share the same space as us. These face-to-face interactions allow people to read each other's expressions and body language. They help to build trust, community, and knowledge through shared experiences.

Virtual connections
Our relationships with remote people and places through digital technology. These interactions can support inclusion by helping people stay connected—regardless of their physical location or schedule.

Abstract connections
Our relationships to ideas, beliefs, values, or goals. These connections can be just as impactful as those that are in-person or virtual because they contribute to a shared sense of belonging and greater purpose.

These categories complement and enhance one another. For example, an employee might form an in-person connection with a physical space—their office. When they work remotely, their connection with their company is more abstract.
Two types of relationships
Before we can address connection across these different categories, we first need to understand the nature of relationships.

Sociologists classify relationships between people as either strong ties or weak ties.

Strong ties
People we know well, trust, and interact with frequently. These relationships are helpful in collaboration, knowledge-sharing, and problem-solving. Strong ties support our day-to-day work processes.

Weak ties
People across the organization whom we don't know as well and interact with less often. These relationships are primarily at a community level. They help us access new ideas or opportunities, and advance innovation. Weak ties make us feel welcome, feeding our sense of security and belonging while supporting longer-term, purpose-driven outcomes.

Strong ties have suffered in recent years, but distributed work has taken a larger toll on our efforts to nurture existing weak ties or form new ones.

Organizations have found this eroding of weak ties to be most detrimental to their creativity and innovation.****
How it all comes together
Strategies for cultivating connection abound. If you're unsure where to begin, we've identified the following goals as a starting point.

- Provide opportunity for immersion into content, less structured conversations, and complex decision-making.

- Facilitate spontaneous, impromptu connections and social moments that can help drive innovation, explore new ideas, and shape culture.

- Leverage technology and furnishings that enable equitable experiences for both remote and in-person participants.

- Create welcoming environments that instill a shared sense of purpose and belonging through inclusive design, a participatory process that considers the needs of all individuals.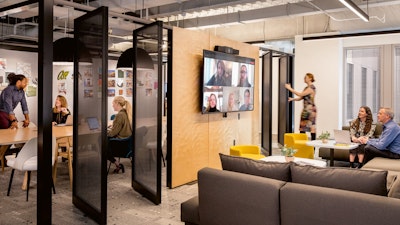 Reconnecting in a distributed world
Distributed work is here to stay. Organizations need to embrace this shift and focus on strategies to support new ways of working now and into the future.

While we deliver on employee demand for more flexibility, we can't forget the in-person, virtual, and abstract connections that fuel both strong and weak ties for all individuals, teams, and the larger community.

Reconnecting starts in the workplace. When you're ready, let's talk.


Sources:
* Global Workplace Assessment data on belonging and connectivity.
** BetterUp Connection Crisis report + S2E1 podcast interview.
*** Harter, et. al. "The Relationship Between Engagement at Work and Organizational Outcomes," Gallup, October 2020.
**** Daniel Carmody et al., "The Effect of Co-Location on Human Communication Efforts." July 14, 2022.
The rise of distributed work has provided many benefits to workers. However, an unintended consequence has been an overall drop in connection.

Connection has a direct impact on employees. If not addressed, feeling disconnected can lead to burnout, with negative consequences for businesses.

By designing a workplace with opportunities to foster relationships at every level, we can restore and improve connection while better positioning organizations to make decisions, build culture, and contribute to a sense of belonging for all employees.
Stay in the know
Our newsletter covers a range of topics, from insights and design ideas to announcements about new products from our collective of brands.