Project profile: BAMF Health
How an innovative cancer center set the vision for a new approach to hospitality in healthcare
Reading time: About 6 minutes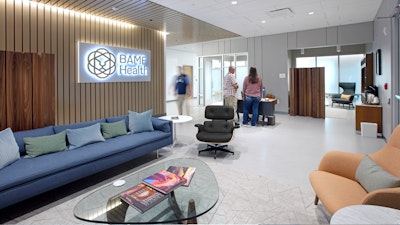 Located in the Medical Mile of Grand Rapids, Michigan, BAMF Health specializes in cancer care for patients in advanced stages of metastatic prostate and neuroendocrine cancer. Going forward, the team intends to expand their treatment focus and clinical trial enrollment, using molecular imaging and molecularly targeted radiation therapy to improve disease management.
BAMF Health's novel approach leverages the cutting edge of medicine: Theranostics.

"We call it intelligence-based precision medicine," says BAMF Health founder Dr. Anthony Chang.

"We don't do trial and error. We collect the right information, turn it into useful intelligence, and then decide how we're going to treat the patient, so we know what outcome to expect."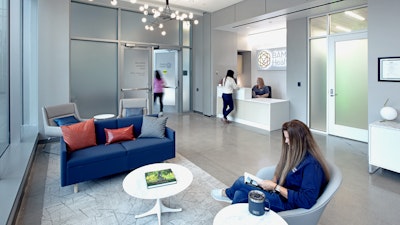 A space to match its ambitions
When BAMF Health set out to design their new facility to bring Theranostics to the United States, they set ambitious goals. And they applied the same intelligence-based precision to the design process.

The BAMF Health team focused just as much on the care and experience of their staff as they did on the needs of their patients and guests. They followed this simple reasoning: When your people feel cared for and at their best, they can take better care of others.

For example, traditional nuclear medicine departments within a hospital setting or an outpatient clinic are typically located in basements to contain the radiation given off by patients and machines. Yet the effects of daylight are widely known to be important for people's wellbeing. BAMF Health understood this and prioritized it by adding leaded glass windows in every imaging room except the MRI room.

"I see outside all day long, which is completely different than any other site that I've been at," said Tina Brennan, Nuclear Medicine Supervisor.

"It makes a difference for patients too, because they don't feel confined. They can see the outside world and what's going on. There is a level of comfort with that."

This new clinic design elevates technology capabilities and safety provisions, including lead, while focusing on environmental factors that can significantly impact overall mood and experience.
It starts with collaboration
To create something entirely new that follows no established model and spans multiple disciplines and areas of expertise, you need the right kind of partners.

Laurie Placinski, BAMF Health's Vice President of Real Estate, Design, and Partnerships described their ideal partner as "someone who understands from a cultural adaptation perspective and an environmental perspective how to mold and modify not just your traditional healthcare line, but outside of your traditional healthcare line. Who has components that can be brought in and slightly modified to meet the level of care and safety that we need, but create the overall feeling that we want to evoke."

BAMF Health found these partners in MillerKnoll and Trellis, a MillerKnoll Certified Dealer.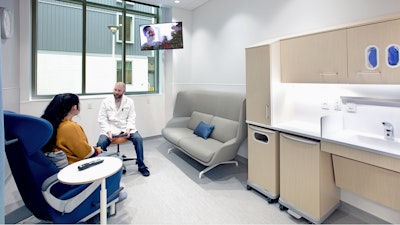 A match made in motivation
From the very first meeting, our MillerKnoll team found the BAMF Health team to be like-minded problem-solvers who were not only willing to push the boundaries of what is possible, but actively expected us to do the same.

"What we asked MillerKnoll to do is really hard and had never been done before," said Matt DeLong, Vice President of Radiopharmacy. "Anybody can make a sheet metal box, put lead in it, and powder coat it with cream paint. But not everybody can mix solid surface, wood, and all these materials to deliver (a desirable) aesthetic. Nobody's done that."

The BAMF Health team wanted to establish a model that could scale to other locations and facilities across the country. Our collective of brands and breadth of products made MillerKnoll the perfect partner. BAMF Health could select and customize the furnishings that met their high experience standards.

Our teams worked closely with BAMF Health and their design and construction partners to understand their vision for the new space as well as the patients, families, and staff that it needed to serve. This was truly design to support and accommodate relationships.

"In my mind, hospitality is asking what we need to do to meet a need in the moment," Placinski explained. "Give a sense of confidence. Give a sense of support. Give a level of reassurance when needed. Give a level of comfort when perhaps therapy is not the right route."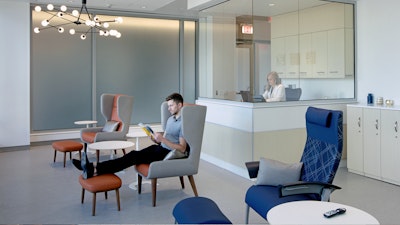 Innovations applied
A sincere focus on being a caring host for everyone who comes through their doors drives BAMF Health as an organization. That applies to patients, but also staff and guests.

By ensuring an elevated and thoughtful staff experience, they knew the patient experience would excel as a result. To achieve this high level of care, BAMF Health needed the design to deliver on three aspects of the hospitality experience:
Protection
Providing spaces that consider safety and security to provide assurance.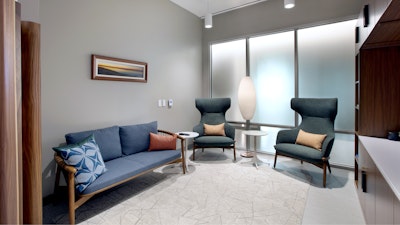 Intellectual welcome
Providing spaces that consider inclusion and belonging, as well as promoting coming together.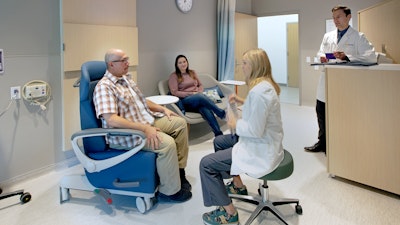 Open table
Providing spaces that promote sharing a cup of coffee or a meal, human interaction, and eye-to-eye contact.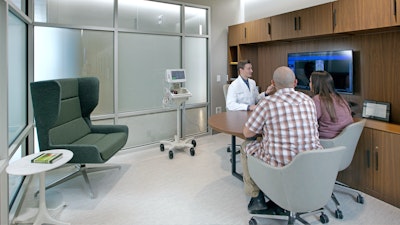 Visitors will find these concepts throughout every inch of the BAMF Health facility—all to make sure the people in the space are as comfortable and cared for as possible.

A few examples include:
- Lead-lined custom furniture and fixtures to protect staff and family when near post-radiation treated patients.
- Aesthetic solutions to conceal medical hardware in treatment rooms without sacrificing ease of accessibility for staff members.
- Planning unique and flexible spaces like the front porch concept or post-treatment lounge spaces to meet the physical and emotional needs of patients, family, and staff.
Limitations outsmarted
This collaboration with BAMF Health is an example of the extent we're willing to go to help organizations realize their ambition. You never have to settle for what currently exists. With collaboration, imagination, and curiosity, we deliver better experiences for people who need it most.

We set out to design an elevated staff experience, patient experience, and project delivery experience. And we checked every box.

Dr. Chang put it best: "With the developers, construction companies, MillerKnoll for their healthcare expertise, and Trellis for their design guidance—we challenged everybody, and everybody took the challenge. That's how we get the most advanced facility in the world, together."
BAMF Health is an innovative cancer care facility that offers Theranostics—a cutting-edge approach that can treat cancer more effectively.

Together, we matched BAMF Health's innovative care approach with bespoke hospitality solutions while promoting safety, comfort, and connection.

The collaboration reveals that by focusing on hospitality and thinking beyond what exists, we can provide a better experience for everyone.
Featured products
Explore designs that helped facilitate hospitality at BAMF Health.
More insights
The intersection of hospitality and healthcare
Going beyond food, drink, and accommodation to deliver safe, comfortable, and inclusive spaces.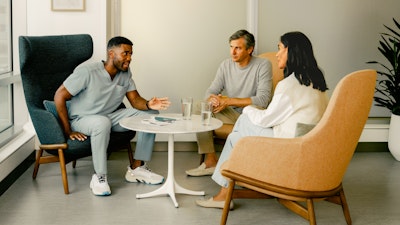 Contact a specialist
Ready to start your healthcare project?
Connect with us today and discover how you can get to market faster, optimize your investment, and elevate the experience for all.