Designing a better world
Learn how we're strengthening our tradition of doing business that serves our planet and its people.
The 2023 Better World Report
In this report, we share data and details from initiatives across MillerKnoll's environmental, social, and governance (ESG) focus areas. Discover our approach to designing a better world, from fostering more inclusive, sustainable supply chains to driving community impact.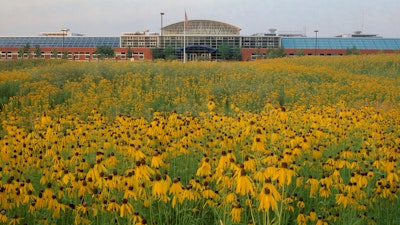 As a collective of premier design brands, we know how powerful collaboration can be – we do it every single day, working together as MillerKnoll to build the future we want to see.
Andi Owen, CEO, MillerKnoll
Our ESG Strategy
Foundation for a better future
Our ESG strategy impacts how we think, how we make decisions and how we run our business. It unites our collective of brands in service to one goal: designing a more equitable and sustainable world. We have three focus areas.
Highlights from the report
For our collective, success is a unified front. These highlights show the power of our network to spark positive change.
$450 million

We directed $450M (£371M) in spending to various suppliers from financial years 2021 to 2023.

22,000 hours

Our associates volunteer 22,000 hours annually.

$2.4 million +

Our philanthropic commitment to MillerKnoll communities exceeds $2.4M (£19.8M).

9 days

Our annual Days of Understanding platform consists of 9 days of conversation to deepen empathy and respect across MillerKnoll.

100%

We had a 100 per cent brand and community participation rate for our 2022 Global Day of Purpose.

40%

We reduced packaging waste by 40 per cent at 14 of our global contract facilities.
Integrity in our network
We hold ourselves and our partners accountable to high ethical standards. In 2021, we updated our global Code of Business Conduct and Ethics, and we expect all suppliers to follow our Supplier Code of Conduct. Learn more about how we practise good governance.