Hospitality in healthcare
Going beyond food, drink, and accommodation to deliver safe, comfortable, and inclusive spaces
Reading time: Less than 4 minutes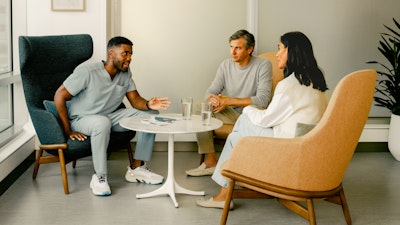 People have more choices for healthcare than ever before and expectations for the services they receive have never been higher.

Health systems remain focused on a dual challenge:
- Attracting and retaining patients and staff.
- Dealing with staff shortages and burnout exacerbated by the pandemic.

What can healthcare organizations do to stay competitive while improving the experience for everyone?

Many healthcare systems are turning to hospitality industry experience models to differentiate their brands. Growing research suggests that organizations focusing on hospitality and the quality of relationships can optimize patient satisfaction and improve the employee experience.

However, when organizations try to implement hospitality, they often fall short. Is hospitality simply a concept about food, drink, and servicescape, or is it much more?
Hospitality defined
Hospitality comes in many forms, but what does it actually mean? Is it simply adding coffee stations for visitors and a breakroom for staff? Is it staffing a greeter in the lobby? Is it about servicescape design elements?

Yes, and much more.

Our research into the origins of hospitality goes beyond generic amenities, service, and décor. Pleasant and restful design elements set the stage for healing, caregiving, and hospitable behavior. But when implemented without considering the core meaning of hospitality, it falls flat.

Hospitality is about relationships, not just the intent to show hospitality. Seen in history, religion, literature, and architecture, the common elements of hospitality are found the world over. "Hospitality is culture itself and not simply one ethic amongst others,"* meaning that hospitality is more than just a set of moral guidelines. It is a way of life that is based on welcoming and caring for others.

At its essence, hospitality is a relational, place-based activity** that seeks to meet people's basic needs. It is a deeply embedded human activity.

- Hospitality frames the relationship between hosts and guests.
- It happens in shared places, person-to-person.
- From safety and security to food, drink, shelter, and personhood, it provides for fundamental human needs.
The guest-host relationship
In healthcare, the guest-host paradigm shifts within the layers of the building, organizational processes, and people's needs. Hospitality involves spatial boundary, ownership, and obligation, where the host is the owner and provides for the guest.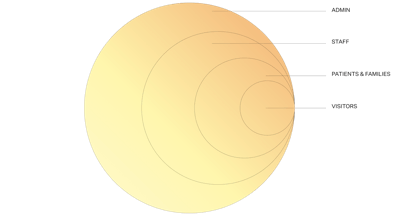 Nested hosting
This nesting model is a way to think about how hospitality might operate within a healthcare facility. It shows hosting can shift from one group to the next.
Leadership and administration host everyone—staff, contractors and traveling clinicians, patients, and visitors.

Staff host patients and their support persons as well as other staff members. Staff-to-staff hospitality becomes especially important during onboarding and in times of high demand or post-crisis.

Where patient acuity allows, patients and families/support persons take 'ownership' of their room, hosting staff as well as visitors.
Relationship-based hospitality
Designing for relationship-based hospitality has three main dimensions: protection, intellectual welcome, and an open table.***  Keep in mind hospitality is relational, so concentrate on points of interaction. 

Protection​
Create spaces that communicate, cue, and afford physical and psychological safety and security to help lower stress and anxiety.

Intellectual welcome​
Use inclusive design principles to guide space planning so that people from all backgrounds might experience belonging.

Open table
Promote cross-role, same-level human interaction, especially with a shared meal or beverage to encourage sharing and trust.
Does it really make a difference?
When patients, families, and staff consider where to receive and provide care, relationship-based hospitality can be a differentiator for healthcare organizations.

Aligning the built environment, organizational processes, and culture are critical to your success in bringing relationship-based hospitality to healthcare experiences. If these elements are missing, even the best-designed space won't be enough to deliver hospitality.
Our history in healthcare
We bring more than 50 years of healthcare design research, exploration, and problem-solving to the table. MillerKnoll is dedicated to understanding and partnering with healthcare systems to design healthcare spaces that foster meaningful relationships; are safe, secure, and functional; allow people to perform at their highest level; and show staff, patients, and visitors that they are valued.
Sources​
*Jacques Derrida. Acts of Religion, trans. By Gil Anidjar. (Routledge, 2002)

**Brotherton, Bob. Towards a definitive view of the nature of hospitality and hospitality management. International Journal of Contemporary Hospitality Management 11, no 4 (1999): 165-173.

***Jayme Reaves. Safeguarding the Stranger: An Abrahamic Theology and Ethic of Protective Hospitality (The Lutterworth Press, 2016)
Hospitality is more than food, drink, and accommodation.

At its essence, it's about fundamental human needs.

All of this adds up to driving better outcomes for health systems by delivering superior care through better employee and patient experiences.
Applications
Designing for hospitality
Learn more about how relationship-based hospitality can integrate into other areas of healthcare facilities.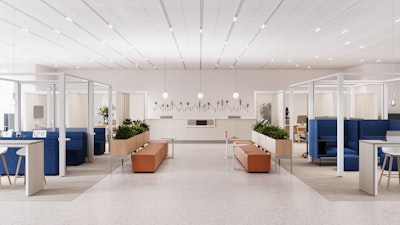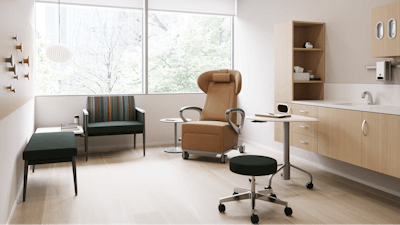 Project profile
BAMF Health
How an innovative cancer center set the vision for a new approach to hospitality in healthcare.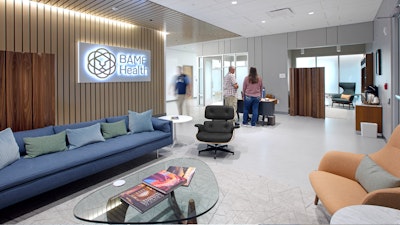 Contact a specialist
Ready to start your healthcare project?
Connect with us today and discover how you can get to market faster, optimize your investment, and elevate the experience for all.